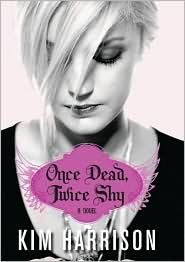 Madison's prom was killer—literally. For some reason she's been targeted by a dark reaper—yeah, that kind of reaper—intent on getting rid of her, body and soul. But before the reaper could finish the job, Madison was able to snag his strange, glowing amulet and get away.

Now she's stuck on Earth—dead but not gone. Somehow the amulet gives her the illusion of a body, allowing her to toe the line between life and death. She still doesn't know why the dark reaper is after her, but she's not about to just sit around and let fate take its course.

With a little ingenuity, some light-bending, and the help of a light reaper (one of the good guys! Maybe . . . ), her cute crush, and oh yeah, her guardian angel, Madison's ready to take control of her own destiny once and for all, before it takes control of her.

Well, if she believed in that stuff
.
ONCE DEAD, TWICE SHY had me consumed in its story immediately. Kim Harrison did a marvelous job telling Madison's story.
I like Madison. She has a certain thing about her that makes me like her. It might be her sarcastic remarks, or her hunger to learn more about reapers and the amulet that must stay around her neck at all times. She's a great main character. Her interaction with the other characters is nice to read about, because she just seems to be herself and doesn't really hold anything back.
I found the whole reaper and time-keeper thing a little hard to follow and difficult to understand. I'm still a little confused as to what each of them is and what they do, and who is good and who is bad, but other than that nothing bothered me.
The story flows really easily and I like that. I never got bored and was always anxious to read more. The world for ONCE DEAD, TWICE SHY is different from your regular blood-sucking environment, or faerie realm, and I like that it's unique.
Ratings:
Writing: 4/5
Plot: 3/5
Character: 3/5
Cover: 4/5