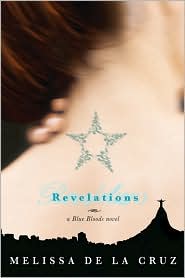 Have you ever wondered what secrets lurk behind the closed doors of New York City's wealthiest families? They're powerful, they're famous... they're undead.

Schuyler Van Alen's blood legacy has just been called into question - is the young vampire in fact a Blue Blood, or is it the sinister Silver Blood that runs through her veins? As controversy swirls, Schuyler is left stranded in the Force household, trapped under the same roof as her cunning nemesis, Mimi Force, and her forbidden crush, Jack Force.

When one of the Gates of Hell is breached by Silver Bloods in Rio de Janeiro, however, the Blue Bloods will need Schuyler on their side. The stakes are high; the battle is bloody; and through it all, Carnavale rages on. And in the end, one vampire's secret identity will be exposed in a revelation that shocks everyone.
REVELATIONS is a great way to continue the Blue Bloods series. It's just as great, if not better, as the two prequels.
A lot of life changing things for the Blue Bloods happen in REVELATIONS. Lives are lost, ties are broken, and loves are lied to, but most importantly: the Silver Bloods are uprising. REVELATIONS is probably the most important book in the series so far, and a lot of changes are in store for the Blue Bloods.
I was very satisfied with this one, for many reasons. The romance between the characters is one of them. In my review for MASQUERADE, I said that I was for Oliver and Schuyler...that has changed again. There are just so many reasons why I love Oliver for Schuyler and why I love Jack for Schuyler! Schuyler's decision, in the end, forces her to lie to one of these boys and because of this, she must stay with the other one. More difficulties are sure to come.
Another reason is that there are so many twists and turns! I wasn't expecting a lot of things to happen, and when they did I was shocked, my eyes were glued to the page. At the end of the book, I stopped for a second and asked myself
Did that really happen?
I was tempted to reread and make sure. I love it when books surprise me or catch me off guard, and REVELATIONS definitely did that.
If I didn't have THE VAN ALEN LEGACY, I don't know what I'd do till October. If you haven't read the series, I am urging you to do so. You won't be disappointed.
Ratings:
Writing: 4/5
Plot: 4/5
Characters: 3/5
Cover: 3/5